The Singaporean singer, JJ Lin is such a big fan and a collector of art. You can always see him sharing his new toys, sneakers, art pieces, watches and limited-edition figures, all those latest and expensive stuff in the market, you name it, he has it. However, "expensive" doesn't mean there is room for appreciation. If you want to invest in these trendy items and you do want them to have certain appreciation potential, then you will have to choose carefully.
Here are some trendy toys shared by JJ Lin on his Instagram. Let Articks evaluate their appreciation potential for you!
A five-star scale adopted as Articks' rating standard:
from one star = the lowest appreciation potential to five stars = the highest appreciation potential 
1. Limited edition Mighty Jaxx XXRAY Plus: ELMO (Eskimo Edition) by Jason Freeny x Sesame Street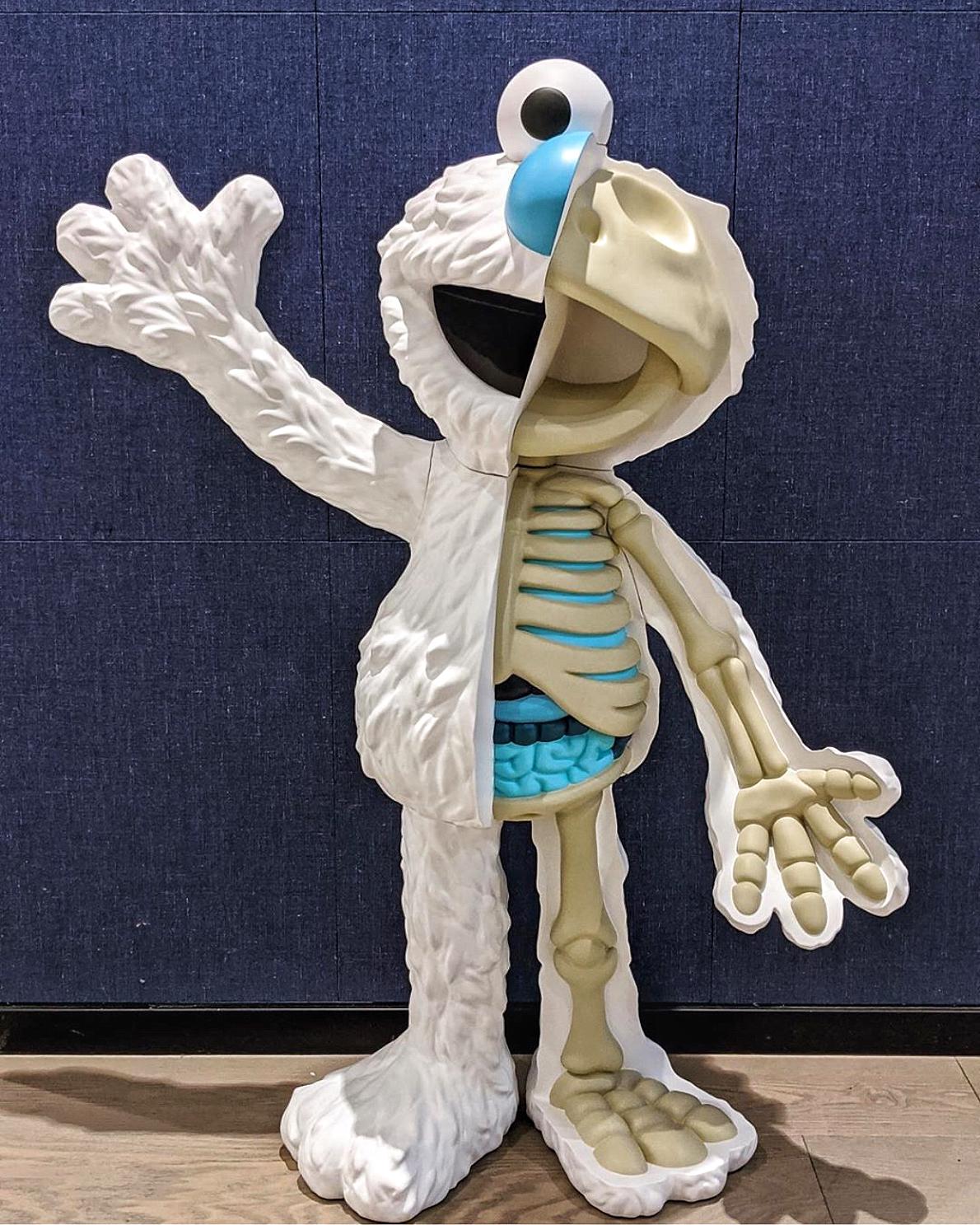 Articks' rating:★ ★ ☆ ☆ ☆
Might Jaxx launches a lot of new products all the time/ Might Jaxx has been always launching a lot of toys, the so-called "limited-edition" is just a gimmick thing, just wait for a few days or weeks, you will see another "limited-edition" launch again.
2. Daniel Arsham x Disney x Apportfolio- Mickey Mouse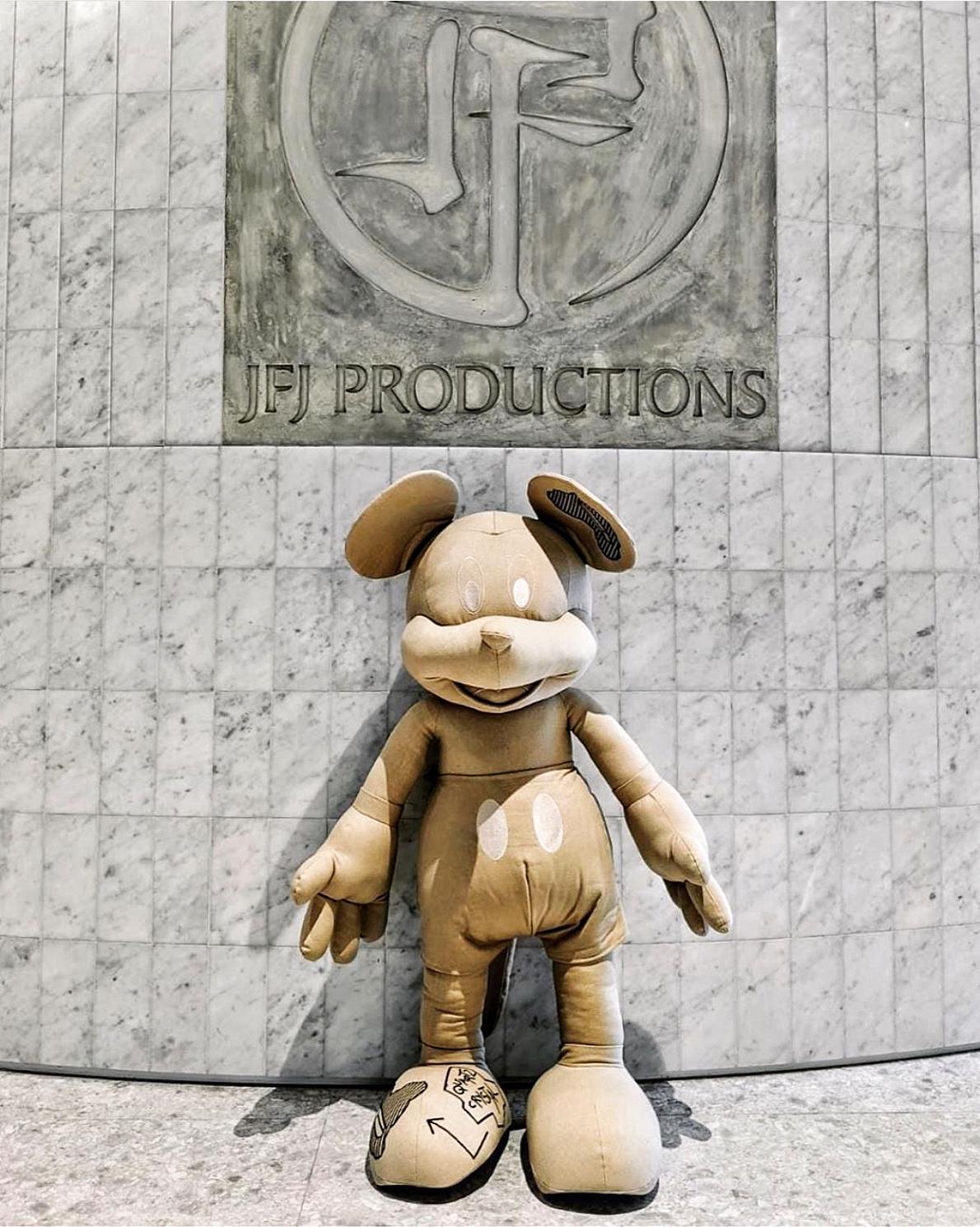 Articks' rating:★ ☆ ☆ ☆ ☆
Even though this figure was collaborated with Daniel Arsham, the matter of scarcity, the quantity is way too much in the whole collection! Plus, it is common to see products crossing over with Mickey Mouse. 
3. Japanese street artist Verdy participated in the "MEET___PROJECT" by AllRightsReserved,The Vick "GDC" themed light which exhibited in the "MEET VERDY GALLERY"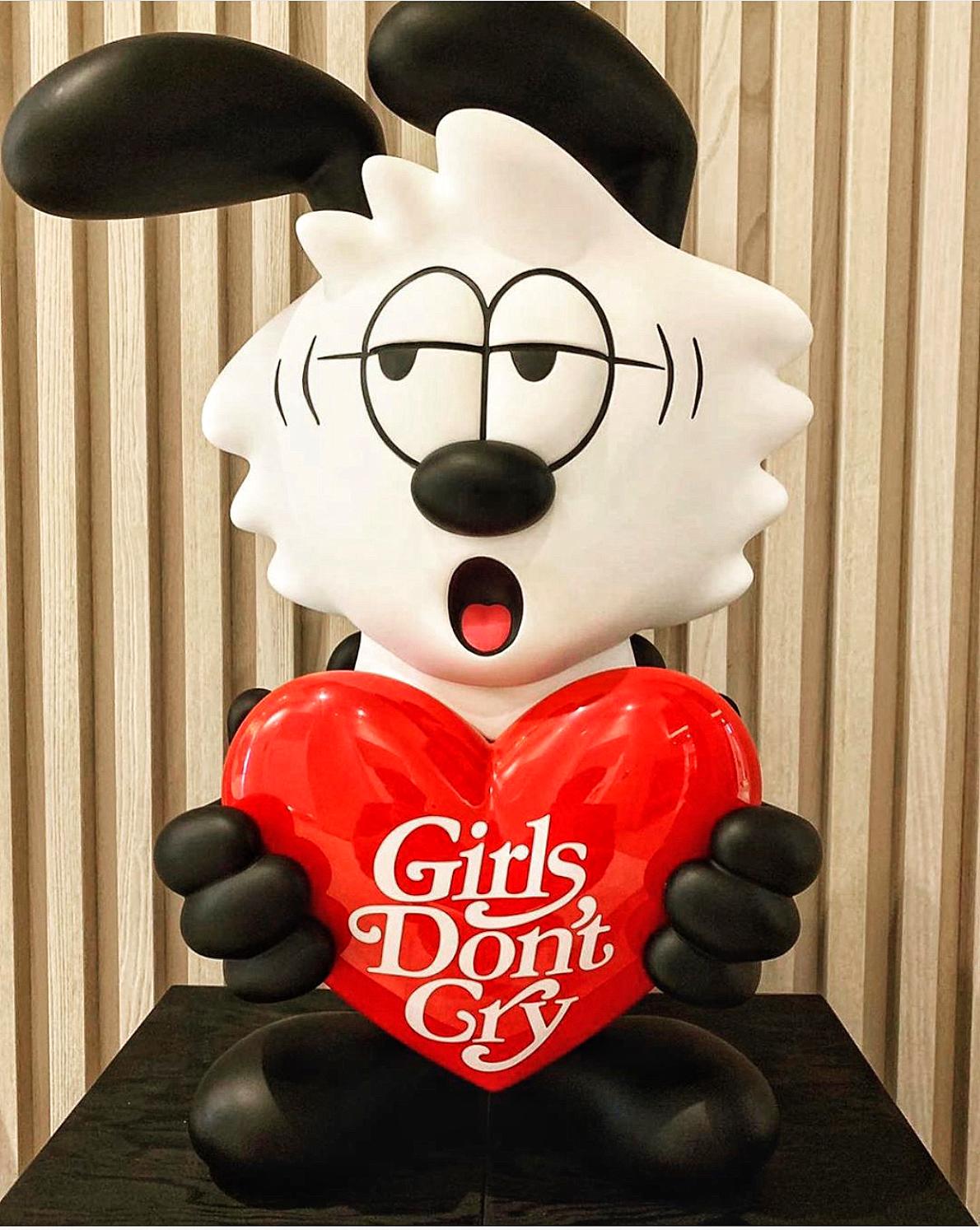 Articks' rating:★ ★ ☆ ☆ ☆
Although Verdy has been frequently participating in various projects and launched his collaboration with Takashi Murakami at the end of 2019, still, he is still not widely known yet. Additionally, this themed lamp is not appealing and intriguing enough, the room for appreciation of this lamp is relatively low at this moment.
4. The woodcraft by Japanese artist Moe Nakamura, signature of Moe Nakamura and verification number are on the woodcraft that JJ Lin held in the picture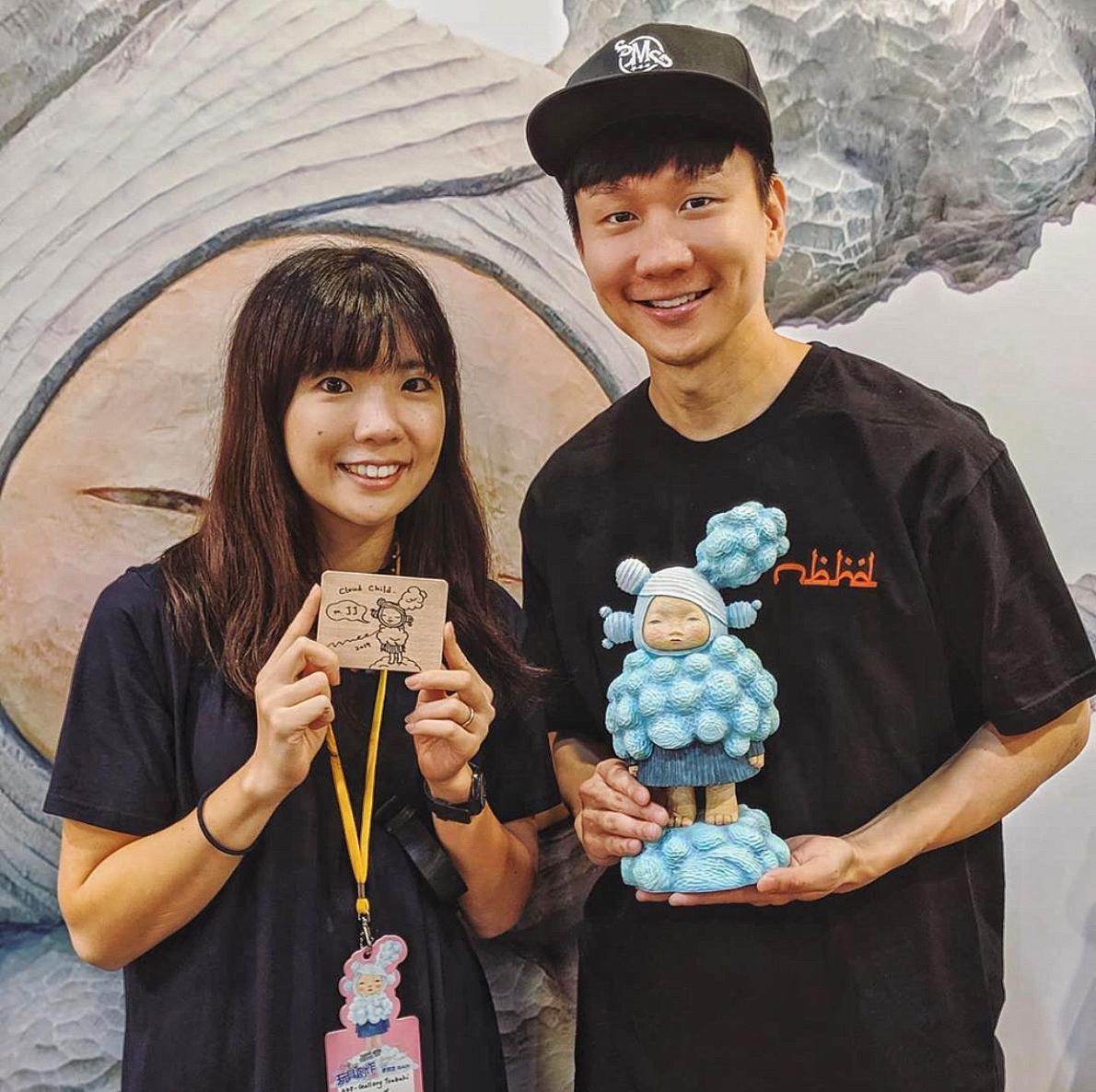 Articks' rating:★ ★ ★ ★ ★
Moe Nakamura is a famous and popular Japanese artist of the generation; her childlike woodcraft has been described as "a therapeutic art piece", she was nicknamed as "the next Nara Yoshitomo". Moe Nakamura is so well-known in Asia that she has chosen to hold her first overseas exhibition in Taiwan. This is surely the best one among JJ Lin's collections, yes, it is expensive, but he made a wise choice, good job JJ! With the popularity and future development of Moe Nakamura, her art pieces would definitely have a great potential for appreciation.
5. The "GONE" series exhibited in KAWS' solo exhibition held at the National Gallery of Victoria -- "KAWS COMPANIONSHIP IN THE AGE OF LONELINESS" 2019
Articks' rating:★ ☆ ☆ ☆ ☆
The "Gone" series comes in three different colours and the one JJ Lin has was the all-black companion & BFF. Even it's a signature item of KAWS, but still it's a product of Open Edition, so it could be found easily in the second-hand market. 
6. Fragment design by Japanese designer Fujiwara Hiroshi x POKÉMON - "THUNDERBOLT PROJECT" leather figure - "Mew"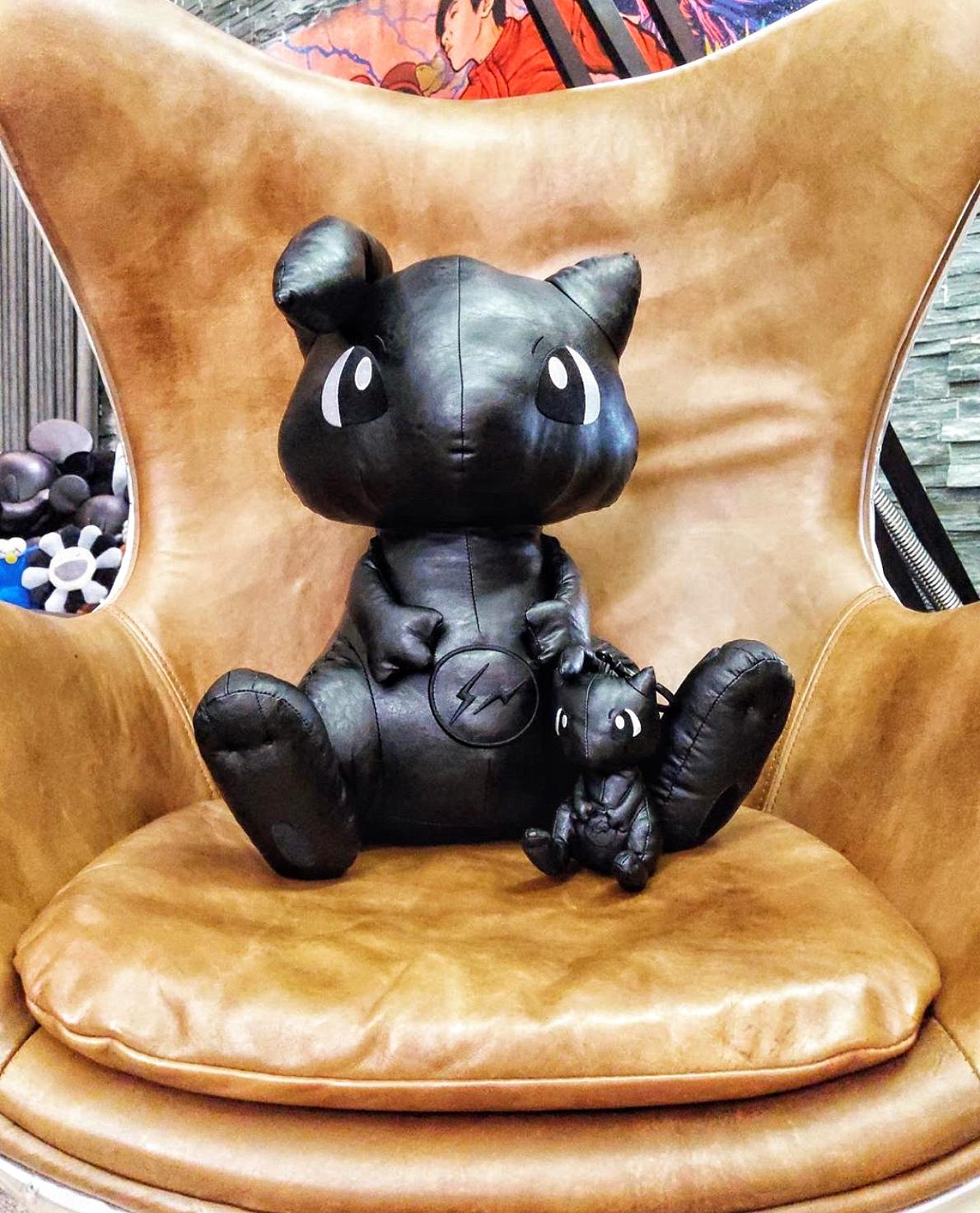 Articks' rating:★ ★ ★ ☆ ☆ 
The collaboration of Fujiwara Hiroshi and POKÉMON. Since all-black POKÉMON is rarely seen in the market and the quantity is very limited, and most importantly, Fujiwara Hiroshi got a large group of loyal fans, isn't it hard to get one of his products then?
7. The art piece of Chinese contemporary artist Yue Minjun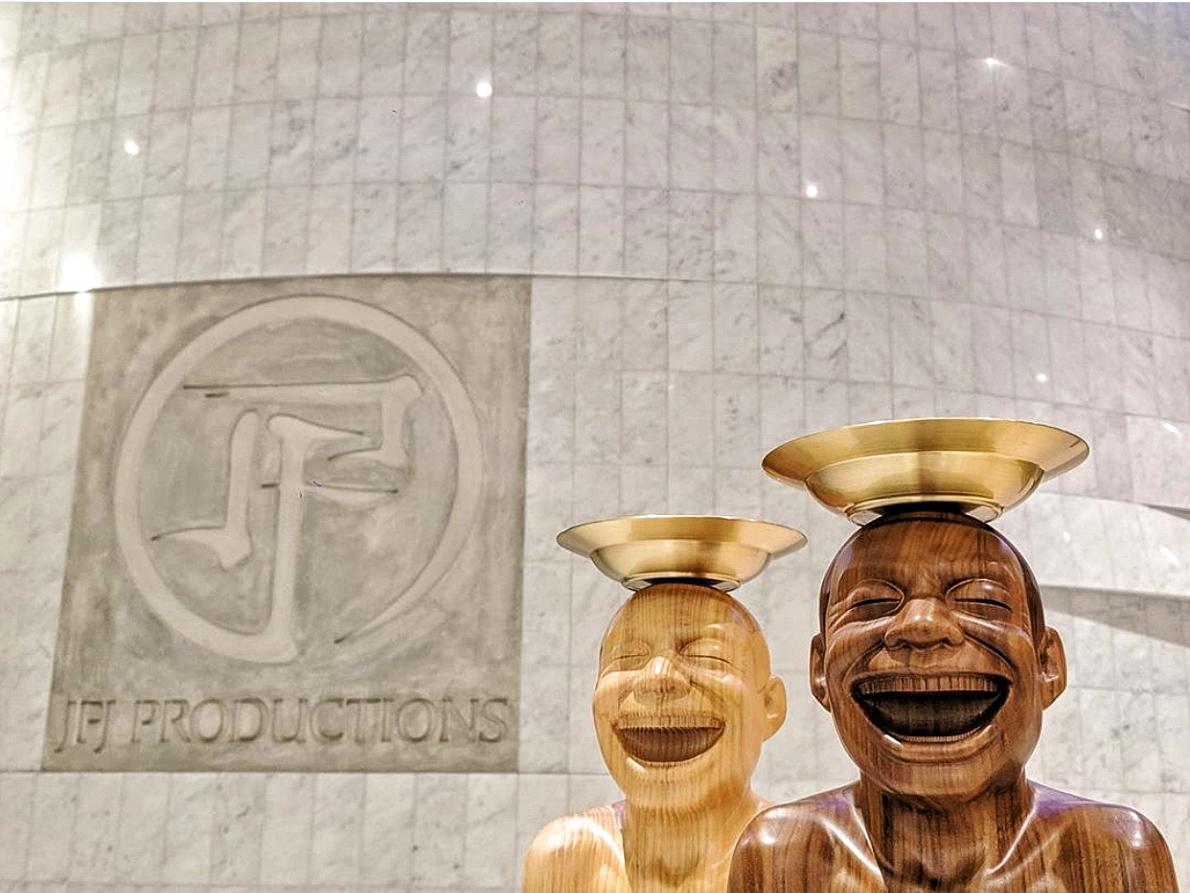 Articks'rating:★ ★ ★ ☆ ☆ 
Yue Minjun is a Chinese contemporary artist known for his "A-maze-ing Laughter", and his work tends to satirise the current society. His oil painting has once become the most expensive work ever by a Chinese contemporary artist, which sold at the Sotheby's London, his popularity was really once in a million at that time. Unfortunately, the sale of Yue's works is not so optimistic. As a result, the appreciation potential of his works has declined.
8. Black and grey flower cushion - "MURAKAMI vs MURAKAMI" Tai Kwun Hong Kong limited edition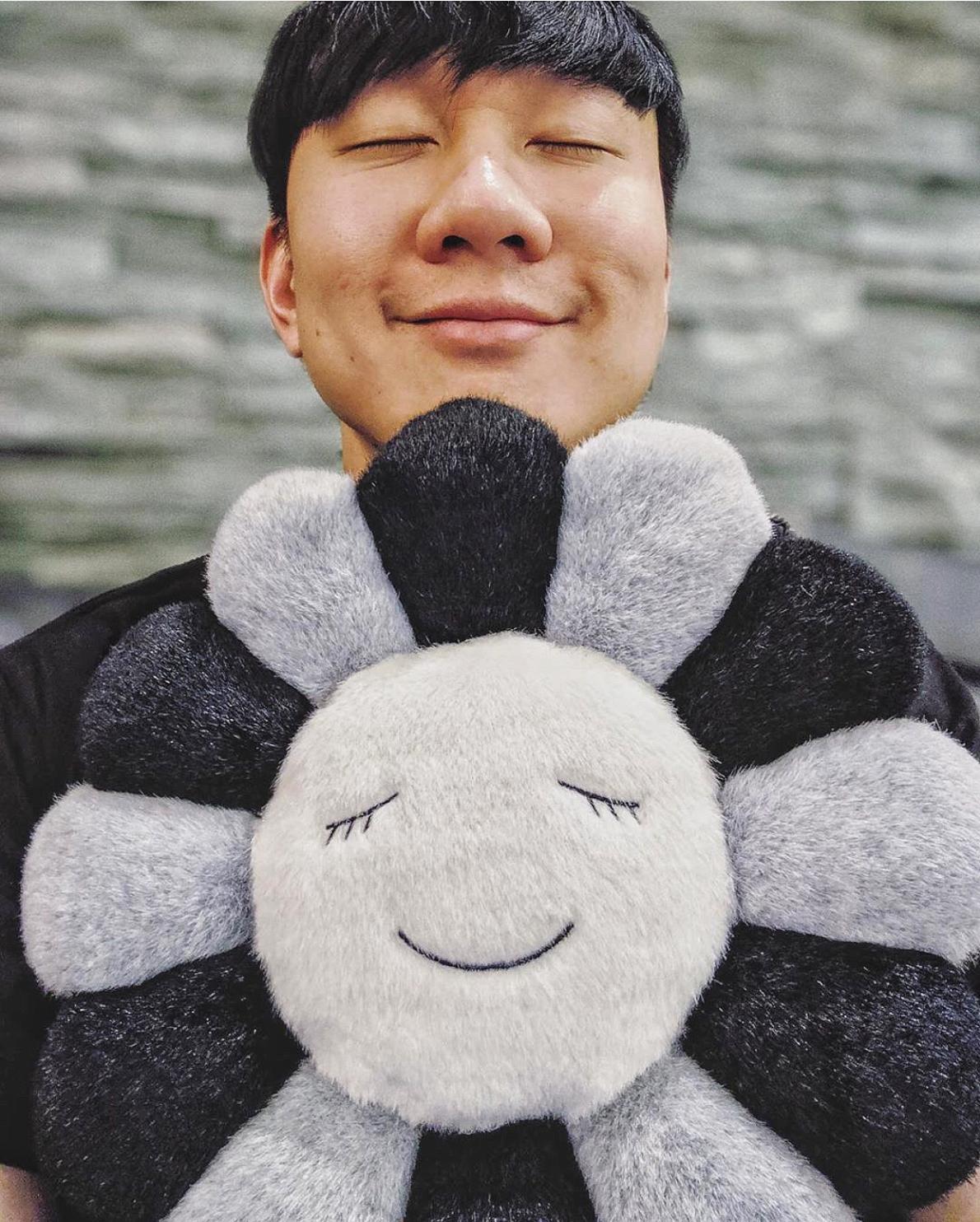 Articks' rating:★ ☆ ☆ ☆ ☆
The limited edition of Takashi Murakami's flowers (normally it would be in rainbow colour but now in black and grey colour), but sadly the Flower series is always renewing, which means this series of products could be easily found.
9. The first Dior menswear collection by Kim Jones - Dior Men's Spring Summer 2019 Collection, Dior has collaborated with KAWS to launch their merchandise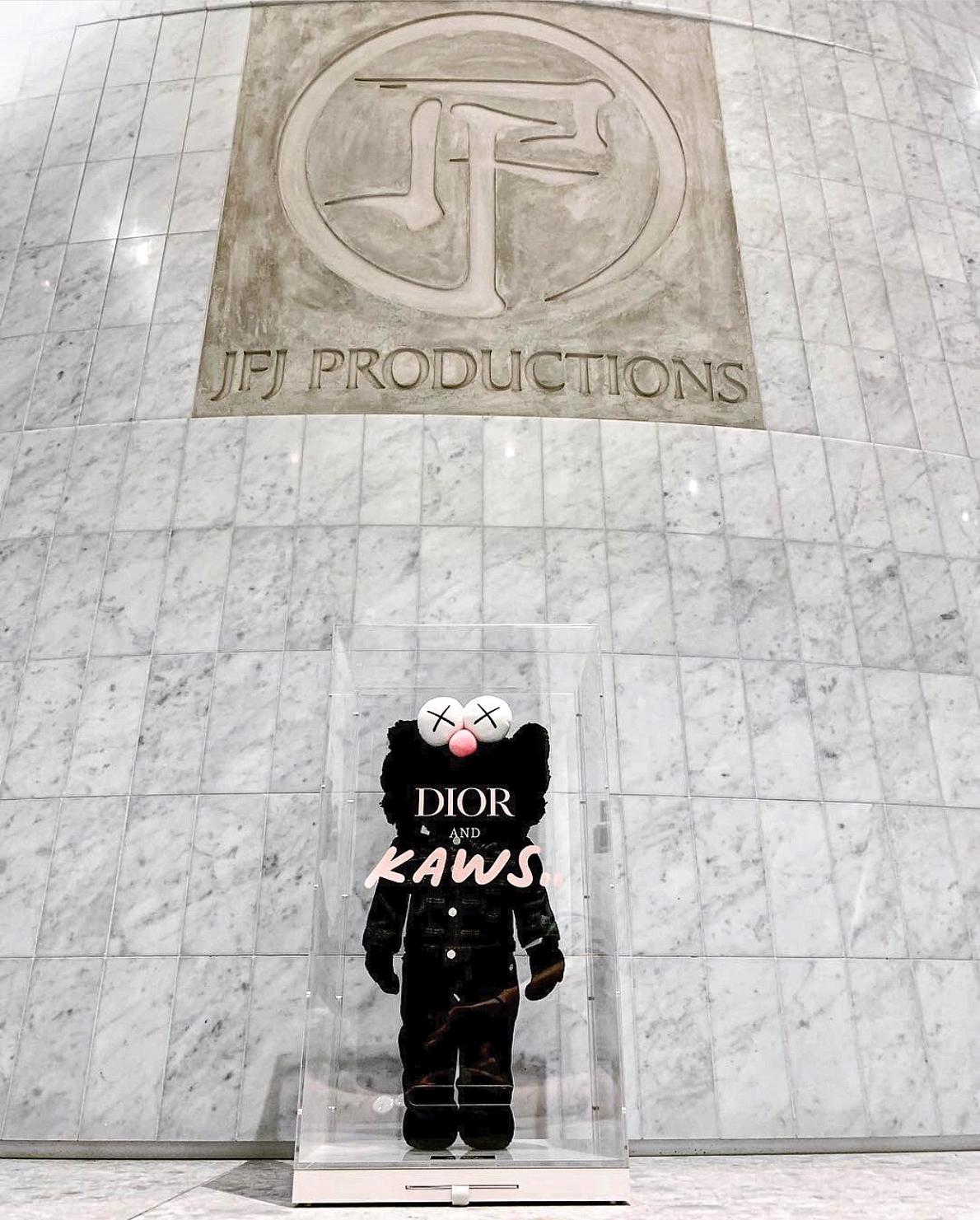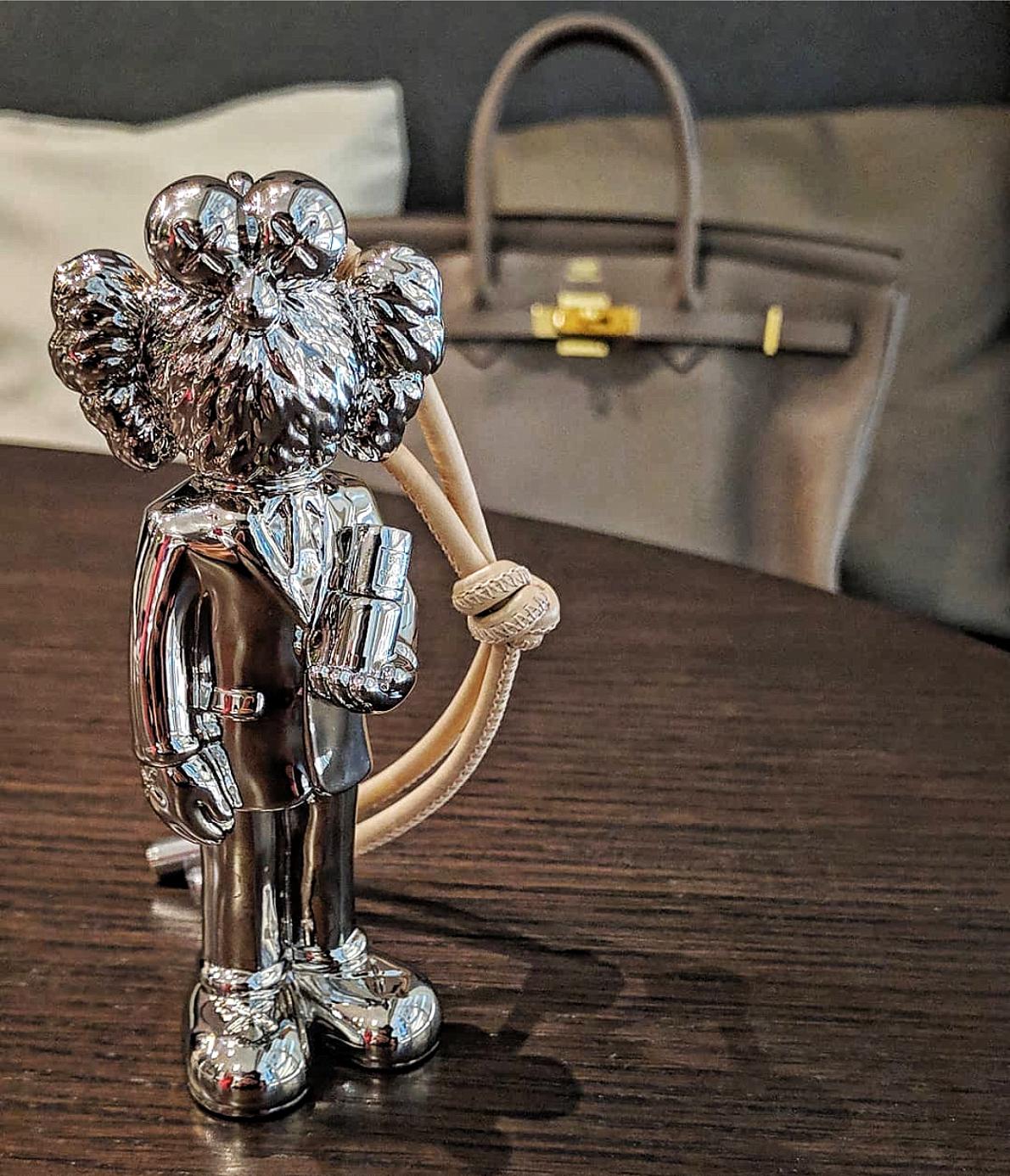 Articks' rating:★ ★ ★ ★ ☆
Along with the collaboration of KAWS and Dior, KAWS has brought the element of street style to Dior, which they launched the figure of KAWS X Dior (left) and as well as designed the perfume bottle with the jewellery designer of Dior Yoon Ahn (right), each perfume bottle is paired with a leather strap as a charm. KAWS, Dior and Yoon Ahn, can it be more? It has surely drawn so much attention from the chics and the fans of the fashion world, regrettably, the quantity of the perfume bottles are too limited, Articks could only accept the fact that it's sold out, I wish I would have one.
Bear in mind: expensive doesn't equivalent to higher appreciation potential 
Summary of the appreciation potential of JJ Lin's trendy items among nine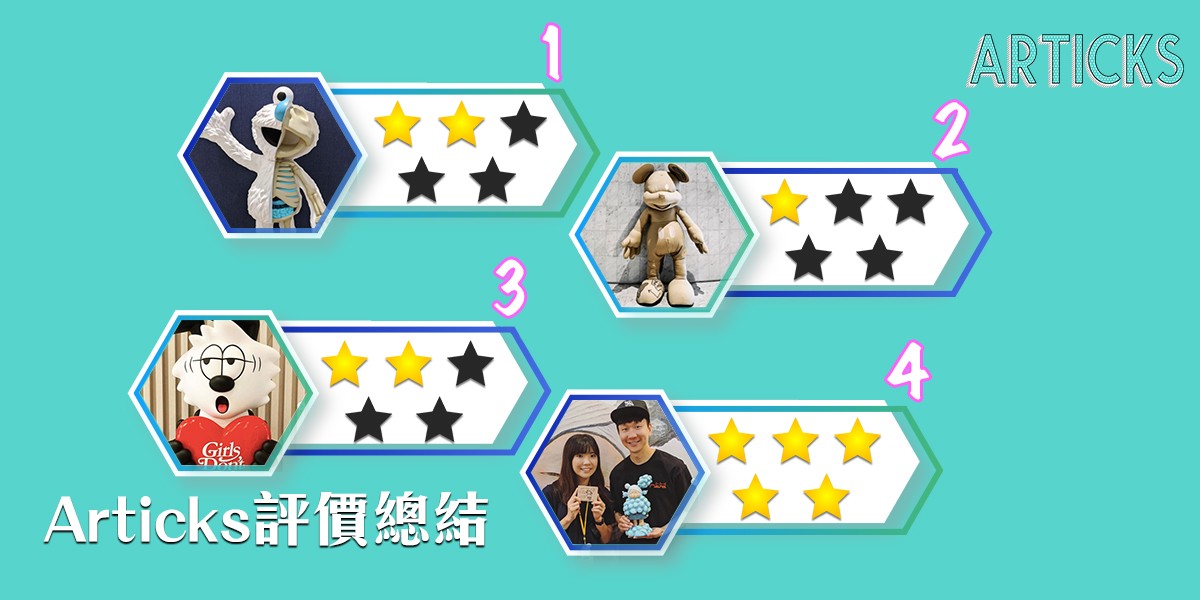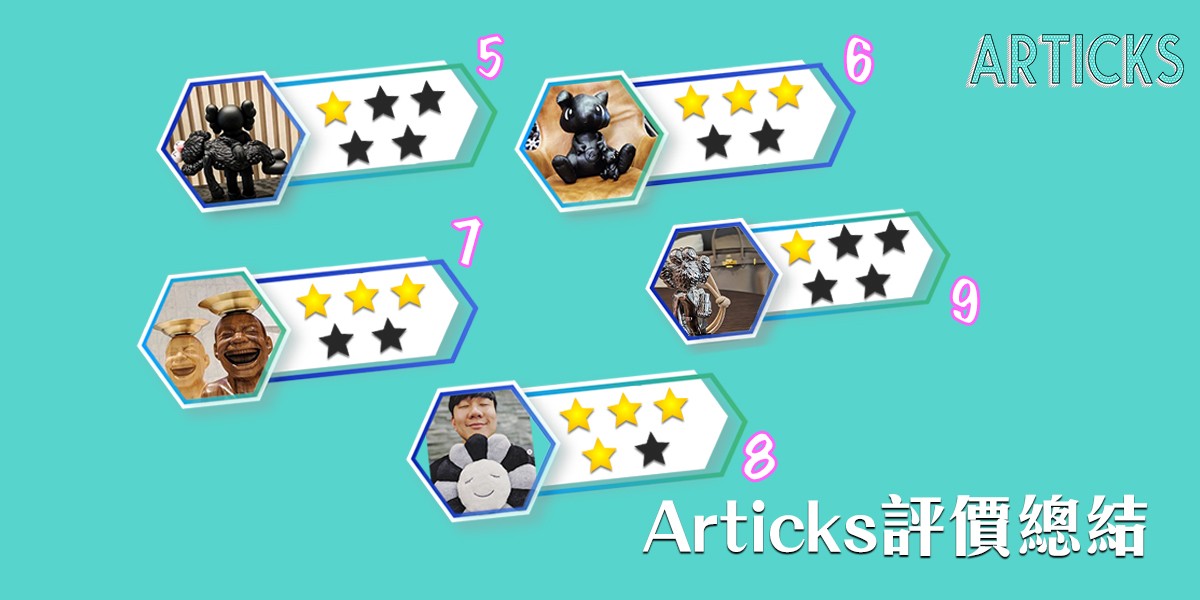 Among the above nine trendy items of JJ Lin, only the woodcraft by Moe Nakamura and the perfume bottles of KAWS X Dior got significant rooms for appreciation, which also reflects that JJ Lin's collection tends to be mainstream favour, that his collections are mostly from famous artists' art pieces, international brands and expensive toys.
In Articks' opinion, JJ Lin does have a lot of expensive items, but he is not a bad buyer when it comes to fame. Unless you are rich as him, or just simply collecting these items for your own interests; otherwise for investment, JJ's collection would not gain much from appreciation. Technically, the woodcraft of Moe Nakamura is an art piece but not really a trendy item. First thing first, if you are going to purchase expensive trendy playthings for investment, please research enough first to avoid losing!
#JJLin #JJ #urbanartcultures #trendyitems #appreciationpotential